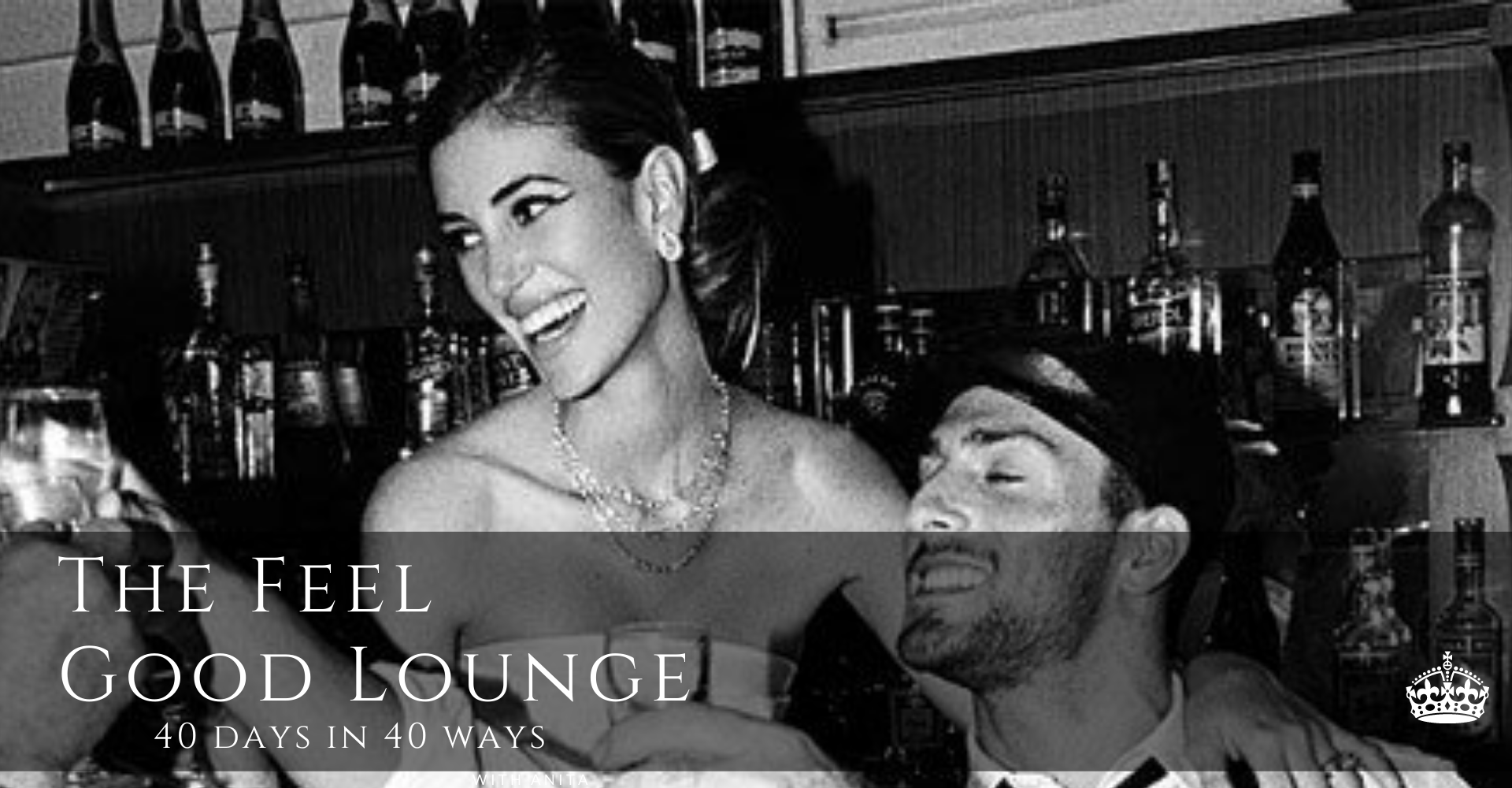 In Day 1 we delve into a potent process to love yourself the way you love others. And how this links directly to what you want to create and the tangible result you want to get out of this!
Imagine feeling the deep love you have for others for yourself??? Imagine knowing you are enough…RIGHT here, RIGHT now, Just as you are. 
If you haven't done the femme quiz yet, click below to do it!
In Day 1 we delve into a potent process to love yourself the way you love others. And how this links directly to what you want to create and the tangible result you want to get out of this!
Imagine feeling the deep love you have for others for yourself??? Imagine knowing you are enough…RIGHT here, RIGHT now, just as you are. 
Do you not know what to do when you feel like crappy? In day three's video I share with you how you can TWIST any surface level emotion that isn't feeling good and how that connects to creating what you desire.
Day 4 – give yourself permission to follow through. Do you get really excited about something only to find out days or even hours later you start to question your ability to follow through?
Inside of 40 days of the Feel Good Lounge I share with you how you can move through and allow yourself to be a woman who follows through.
If you haven't done the femme quiz yet, click below to do it!
Day 5 – How to Manage Your Energy.
Learn how to honor your energy as a woman, allow it to serve you instead of your most precious resource becoming trapped or leaking out and being spent on what you can not control. And how and why that blocks what you desire.
Today I share with you TWO simple processes (that only takes seconds) that will allow you to harness your most precious commodity.

DISREPUTE – A DECADENT AND LUXURIOUS PRIVATE CLUB
If you damage your reputation or dishonor your family in some way, you've fallen into disrepute.
So in other words, if you are looking to create a new REALITY from the norm of what may or may not be your background – a beautiful stylish rebel that is happy to fall into disrepute to rise into the woman she is here to be – then you have found your home.
What is the Disrepute Liberate Me™️ Private Members Club??
I was sick and tired of self development being something we do and yet we do not shout about it
…Especially when we are developing ourselves to heal from the inside out and that benefits the whole world, the more successful we are the more we fill our souls and can give so much more value to others…. there is no shame in it…!! I hid it for years, a secret self-development, spiritual junkie… …..and even when I stopped hiding it.
It was separated from all things FUN, PLEASURE and JOY in my life. And I am all about FUN, PLEASURE AND ENJOYING LIFE, AS A SOCIALITE I LOVE IT. In Singapore we are called SPG'S -Singapore Party Girls…. that is definitely me!!
After facing a tough upbringing and losing my Father to suicide, inner Work of all kinds SAVED MY LIFE, LITERALLY.
As did the unleveled SOCIAL CIRCLE I entered with friends that were nothing like my background. When I SAVED MY LIFE, I mean it literally and it created the lifestyle I have now…
LIVING IN SEVERAL EXOTIC LOCATIONS ABROAD, MEETING MY DASHING SWEDISH FELLA, BEING A BOARD MEMBER ON MULTI MILLION DOLLAR FIRMS ALL AROUND THE WORLD, BUYING AND SELLING A PROPERTY, GETTING OUT OF SHITTY RELATIONSHIPS, TRAVELING AROUND THE WORLD ON MY OWN AT 30, RUNNING MY OWN ALMOST 7 FIGURE BUSINESS THAT WENT INTO IMMEDIATE SUCCESS, GOING FROM 62G TO 52KG, SKIN PROBLEMS I HAD FOR YEARS SEEMED TO MAGICALLY DISAPPEAR, ALONG WITH MY ANXIETY AND STRESS LEVELS THAT MADE FEEL EXHAUSTED ALL THE TIME… THE LIST GOES ON BUT YOU GET THE PICTURE. And MY POINT IS there is really nothing special about me.
YOU CAN HAVE ALL THIS TOO and EVEN more so WHY does deeper inner work have to be so taboo? And why do we need to feel that something is wrong with us? It's quite the opposite, there is something quite RIGHT with a woman that is levelling up that understands that getting to the ROOT of what is keeping her stuck from what she desires – whether that is in money, career, body or love – does not just settle for surface level advice, which can only get her so far. Or pretend she has it all together, she knows having it all together is being in a self development space always, it's a LIFESTYLE CHOICE. AND why the hell does it have to be separated from fun, joy and pleasure? And your social circles.
Trust me, I uplevelled because I HAD ALL OF THIS AT THE SAME TIME and that is what created the success I have. And the woman I am from the inside and out. So I SAW THE MISSING LINK, that of course we can do deep inner work whilst we enjoy the company of amazing women and actually live that lifestyle upgrade we are after in social circles and experiences that support that.
THEN IT STRUCK me that not only should it be done together, IT MUST BE… that's why we have the greatest transformations at the greatest speed, as we experience it and enjoy ourselves as we develop ourselves. The impact of that is far greater rather than hiding it away like a dirty secret, especially in times when we are missing social-circles or growing out of social circles (TRUST ME THAT HAS HAPPENED TO ME A LOT – AN INEVITABLE PART OF GROWTH) and looking for a space where we grow and LIVE the lifestyle we dream of simultaneously.
So THIS is HOW DISREPUTE CAME ABOUT…
I thought what are the things I love? What are the things that the Liberate Me™️ collective loves? What is it that the Liberate Me™️ clients love? And how did I get to this FREEDOM in my life from the inside and out and have the ability to create massive up-levels in short space of time..
WE LOVE… Luxury Deep inner work and quick hacks to remove blocks to master our emotions and energy to create what we want with ease, not-hard work and with the least amount effort possible, in the shortest possible time.
High end experiences and pleasure in private members clubs, 5 star resorts, Michelin star restaurants, beach clubs etc. Music, art, fashion, socializing, plays, culture, private parties, exhibitions, fashion shows having a stage to shine our light, share our knowledge as a business woman or showcase her passions and talents, In a TRULY COLLABORATIVE FASHION.
Leading advice on investing and creating financial freedom
Access to all of this online but also with hybrid of on the ground events.
I REALIZED THERE is nothing like this on the planet… a Private Members Club for all things decadent to ENJOY The finer things in life with women that light up your soul.
Access to a vault of $20,000 worth of courses and classes to grow yourself from the inside out – combat any self esteem issues, not knowing how to attract the wealthy lifestyle, wealthy man that truly lights you up, high end dating opportunities, not knowing how to communicate in your relationships to get what you want, emotional intelligence, emotional attraction, money energetics to bust through your income ceiling at speed. You name it, we have got you covered!!
The DISREPUTE PRIVATE MEMBERS CLUB ENCAPSULATES Liberty – In Disrepute we believe you should have the lifestyle, money and dreams you want and fast.
And forget about following the rules.
Discovery – we believe great lives and wealth in all aspects of life should be easy to unearth. And it shouldn't cost a fortune to start in this journey, hence why we have 5 spots at $249 annual fee and this will stay at $249 for LIFE, your annual fee will never, ever go up.
BUT RIGHT NOW ON BLACK FRIDAY it is $149!!! Beyond this it will go up to $1000 Adventure – we believe every piece of enjoyment in art, culture, music, fashion, private parties etc is key to opening your up to the experiences for the lifestyle upgrade you desire – taking you to new culture and lands.
You requite to be in it, to have it. Expertise – Disrepute believes in sourcing the best expertise in this exquisite collective of women, so you don't have to worry and all you need is at your finger tips. We believe we RISE together and not by competition as there is no such thing, we all have something of value to bring and so yes SO you will get to HOST and SHINE YOUR BRILLIANCE. Your NETWORK IS YOUR NET WORTH. I do not know any space that truly allows this, as these leaders live in FEAR and lack that being collaborative may take something away from them, not in the knowledge that when we come together the abundance is available for all and you fly higher and faster when you can create together that rather than competition.
THIS IS your STAGE, your PRIVATE CLUB, your PERSONAL DEVELOPMENT work for business, money, relationships, self esteem, confidence, your SOCIAL LIFE with a network that will create your NET WORTH. And for RIGHT NOW ONLY and for only the next 5 founding members its $249.. or RIGHT $149 for 72 hour on BLACK FRIDAY.. Lets get shopping ladies for what we REALLY WANT get your founding membership here: https://anitaghosal.com/disrepute BLACK FRIDAY DISCOUNT LINK HERE: https://anitaghosal.com/asp-products/disrepute-a-decadent-and-luxurious-private-club-149/